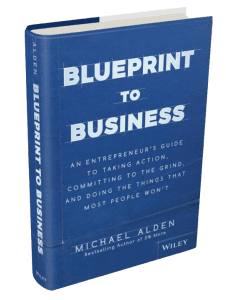 It's been a year or so since I have had Michael Alden on the podcast.  The response to the interview we did about his book 5% More was so positive that I happily accepted to have him on the show again to talk about his new book Blueprint to Business.
Blueprint to Business give business owners the real deal on what it takes to start and grow a winning business.  I appreciate the honest and no nonsense approach that Michael brings to the topic.
I love to have people on the podcast that you can learn from.  Michael has the experience and know how that a business owner can learn from and implement in their own business.
Click here to get your copy of Blueprint to Business. 
You can listen to this week's podcast by clicking the player above or you can subscribe in iTunes.