When it comes to creating an experience, you, as a small business owner, have likely thought about creating amazing experiences for your clients. I think experience is so critical to the brand of a business, I wrote a book about it.  When it comes to employees, you may not think about how the experience is for people who work with you.
In my Building Winning Teams workshop earlier this year, I spent time talking about onboarding an employee.  Onboarding is about setting the right context with an employee for a powerful, long term, productive relationship with a new team member.
Part of the process may include reaffirming why you hired the person.  What their role is as well as expectations that you have of that person as their leader.
I am big believer in the fact that you can take an "A" team hire and make them a "B" team hire based on the environment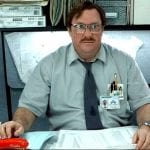 that you bring this person into. It's not uncommon for me to see a new employee get hired in a company and then watch as they get stuck in a corner and treated like Milton from Office Space.  You don't want new employees to feel uncared for and unsupported.
Above is a picture of the welcome kit from Fanduel, the daily fantasy sports site.  If your first day looked like this, how would you feel?  I bet you would feel pretty damn good.  I know I would.  Take a look at your initial employee experience. Where can you take this experience to the next level for your team?